Ardaas
( Prayer To God )
The Ardās (Punjabi: ਅਰਦਾਸ) is a set prayer in Sikhism. It is a part of worship service in a Gurdwara (Sikh temple), daily rituals such as the opening the Guru Granth Sahib for prakash (morning light) or closing it for sukhasan (night bedroom) in larger Gurdwaras, closing of congregational worship in smaller Gurdwaras, rites-of-passage such as with the naming of a child or the cremation of a loved one, daily prayer by devout Sikhs and any significant Sikh ceremonies
ਤੂ ਠਾਕੁਰੁ ਤੁਮ ਪਹਿ ਅਰਦਾਸਿ ॥
You are our Lord and Master; to You, I offer this prayer.
ਜੀਉ ਪਿੰਡੁ ਸਭੁ ਤੇਰੀ ਰਾਸਿ ॥
This body and soul are all Your property.
ਤੁਮ ਮਾਤ ਪਿਤਾ ਹਮ ਬਾਰਿਕ ਤੇਰੇ ॥
You are our mother and father; we are Your children.
ਤੁਮਰੀ ਕ੍ਰਿਪਾ ਮਹਿ ਸੂਖ ਘਨੇਰੇ ॥
In Your Grace, there are so many joys!
These  lines are  from the 4th Ashtapadi of the bani Sukhmani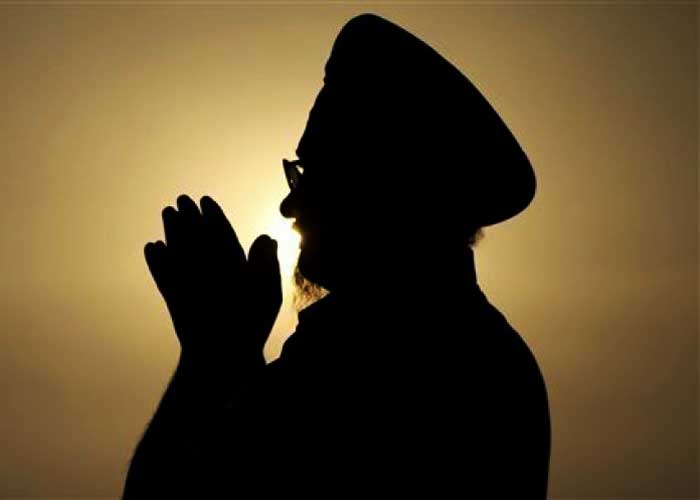 Story of Anand Karaj
How It Started? And Why?
The Ardās is usually always done standing up with folded hands and is commonly preceded by the eighth stanza of the fourth ashtapadi of the bani Sukhmani, beginning Tu Thakur Tum Peh Ardaas. It consists of three parts:
The beginning of the Ardās is strictly set by the tenth Sikh Guru, Guru Gobind Singh and may not be altered or omitted. It appears as the opening passage of Var Sri Bhagauti Ji Ki. The first part is an invocation from the Chandi di Var and recites the virtues of the Sikh Gurus.
The second part is several paragraphs recounting Sikh symbols, places or worship and values significant and related to Khalsa. This may be changed by reciting a "short ardaas". The Sikh devotee may include a personal prayer such as "Waheguru, please bless me in the task that I am about to undertake" when starting a new task, help me with this problem, or add any personal petition for God.
The third salutes the divine name. This part may also not be altered or omitted.
The end of the Ardaas (Nanak Nam Chardi Kala, Tere Bhane Sarbat Da Bala, "O Nanak, may the Nam (Holy) be ever in ascendance! in Thy will may the good of all prevail!") is also set and may not be altered or omitted.